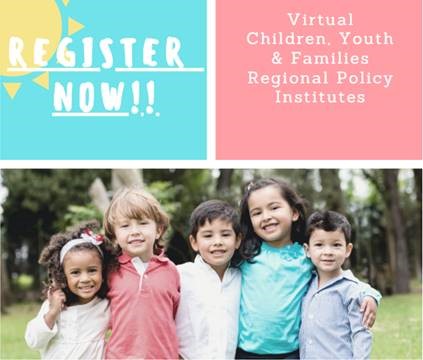 Registration is now open for the Regional Policy Institutes!
NC Collaborative for Children, Youth and Families, NC Child, Prevent Child Abuse NC, i2i Center for Integrative Health, MomsRising, and the Foster Family Alliance of NC invite you to virtually attend our 2020 Regional Policy Institutes. There will be 4 institutes and you can attend 1 or all 4! They are free, but space is limited. We are welcoming different keynotes, presenters, and legislators to each of the institutes.
WESTERN NC
September 14, 2020
9:00 - 11:30 AM
Keynote: Deputy Secretary Juvenile Justice, Billy Lassiter
Advocacy 101: Adam Sotak, NC Child
Legislative Panelists:
Terry Van Duyn - Buncombe
Representative Sarah Stevens -Alleghany/Surrey/Wilkes
Counties Include: Cherokee, Graham, Clay, Macon, Jackson, Swain, Haywood, Transylvania, Madison, Buncombe, Henderson, Polk, Yancey, McDowell, Rutheford, Cleveland, Lincoln, Burke, Caldwell, Mitchell, Avery, Watagua, Ashe, Alleghany, Surry, Wilkes, Yancey, Catawba, Alexander, Iredell, Yadkin, Davie, Stokes, Forsyth
CENTRAL NC
September 28, 2020
9:00 - 11:30 AM
Keynotes: Deputy Director, Child Welfare Services Lisa Cauley
NC Child Welfare Family Advisory Council - Gina Brown
Advocacy 101: Melea Rose-Waters, Prevent Child Abuse NC
Counties Include: Gaston, Mecklenburg, Union, Rowan, Rockingham, Caswell, Person, Guilford, Davidson, Randolph, Montgomery, Cabarrus, Stanly, Alamance, Lee, Moore, Anson, Richmond
EASTERN NC
October 6, 2020
9:00 - 11:30 AM
Keynotes: Deputy Secretary, Behavioral Health & Intellectual and Developmental Disabilities - Kody Kinsley
Associate Director, NC Families United - Stacy Justiss
Advocacy 101: i2i Center for Integrative Health
Legislative Panelists:
Senator Don Davis - Greene/Pitt
Representative Donna White – Johnston
Counties Include: Vance, Warren, Halifax, Northampton, Nash, Edgecombe, Wilson, Harnett, Cumberland, Hoke, Scotland, Robeson, Bladen, Harnett, Sampson, Duplin, Wayne, Pender, New Hanover, Brunswick, Columbus, Onslow, Jones, Lenoir, Greene, Pitt, Carteret, Beaufort, Craven, Pamlico, Hyde, Dare, Washington, Martin, Bertie, Currituck, Perquimans, Pasquotank, Gates, Hertford, Camden, Chowan, Tyrell
TRIANGLE AREA
October 26, 2020
9:00 - 11:30 AM
Keynotes: Youth Transition Program Director, NC Families United - Lacy Flintall
MomsRising - Sheila Arias
Advocacy 101: Beth Messersmith, MomsRising
Legislative Panelists:
Senator Valerie Foushee - Chatham/Orange
Senator Natalie Murdock - Durham
Representative Verla Insko – Orange
Counties Include: Wake, Johnston, Chatham, Orange, Durham, Franklin, Granville
SUBMIT YOUR LEGISLATIVE PANEL QUESTIONS
What are the issues that impact children, youth, and families that matter the most to you? Click the link below to submit up to 3 candidate questions per person.
Some ideas for topics for you to consider: Child Care, Unemployment Benefits, Substance Misuse, Child Abuse and Neglect, Paid Family and Medical Leave, Medicaid Expansion, Medicaid Transformation, Affordable Housing, Food Insecurity, School Based Mental Health, and the Response to COVID-19.
We look forward to seeing you at the 2020 Regional Policy Institutes!
For any questions, please contact Stacy Justiss, sjustiss@ncfamiliesunited.org
Prevent Child Abuse North Carolina
3000 Aerial Center Parkway Suite 180 | Morrisville, North Carolina 27560
919-829-8009 | info@preventchildabusenc.org